STORY PLACEMENT
THIS STORY TAKES
PLACE BETWEEN THE
NOVEL "TOUCHED BY
AN ANGEL" AND THE
AUDIO BOOK "THE EYE
OF THE JUNGLE."
WRITTEN BY
GEORGE MANN
RECOMMENDED PURCHASE
OFFICIAL BBC HARDBACK
(ISBN 1-84990-235-6)
RELEASED IN JUNE 2011.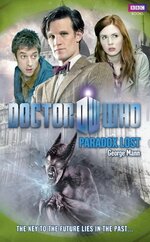 BLURB
1910: an unsuspecting thief finds himself confronted by grey-skinned creatures that are waiting to devour his mind.
2789: the remains of an ancient android are dredged from the Thames. When IT HAS BEEN reactivated it has a warning that can only be delivered to a man named 'the Doctor'.
The Doctor and his friends must solve
a mystery that has spanned a thousand years, AND If they
fail, the Squall will devour the world.